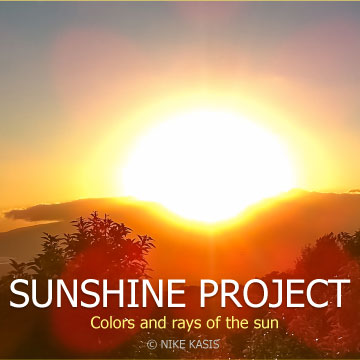 projects _ sunshine project
The colors and rays of the sun.
A declaration of love to the light within and outside, which is omnipresent. The result are unusual pictures of the sun, of nature, full of beauty, strength and energy. The "Sunshine Project" is born in Hawaii and is continuing in Vienna and other places...
BACKGROUND STORY
How it all started ...
It was evening in Kauai. I was at the beach with a friend when my innermost being said: "take a picture of the sun!" I was astonished... alright, good. A few hours later I got a call "There has been a tsunami in Japan and it's heading towards Hawaii..." Heightened energy around us. We bring things to a close for the evening. Later that night I wake up with the feeling that I still have to look at the photos. What I see was the "pink colored sun", the first photo of this sun project. At that point I had no idea where it would lead me. Not long afterward I felt the impulse to take a picture again, on Maui. From then on, I always only took a picture when I felt an impulse – and only then. I spend many months in that state, not knowing what I was actually doing... I found myself on an exciting and fascinating journey.
Share with me the joyful result and download the PDF!